A182 F316 Half Coupling Fittings
Quality BSP Fittings Manufacturer is offering 3/4 Inch A182 F316 Half Coupling BSPP Class 3000 ASME B16.11 for Australia. Stainless Steel 316 Half Coupling 3000# offer corrosion resistance and used for air, water and natural gas applications. As a experienced stockiest in Half Couplings & Full Couplings, and other Threaded Fittings. These ASME B16.11 BSP Fittings are manufactured with good quality material and with rigorous quality check at all stages of production to ensure quality.
Forged Coupling is an important fittings that threaded or socket weld connected pipes with other pipes or fittings. It also called "socket" in some regions. Both threaded coupling and socket weld coupling are leak proof and the former is quick installation and easy usage. 3/4″ socket has two female thread ends and the ends has same diameter. If the two ends are of different sizes is called a reducing coupling or reducer.
Stainless steel half couplings dimensions
Pressure: Class 3000
Thread Type: BSPP
Material: A182 F316
Standard: ASME B16.11
Technics: Forged Steel Fittings
Threaded Couplings Dimensions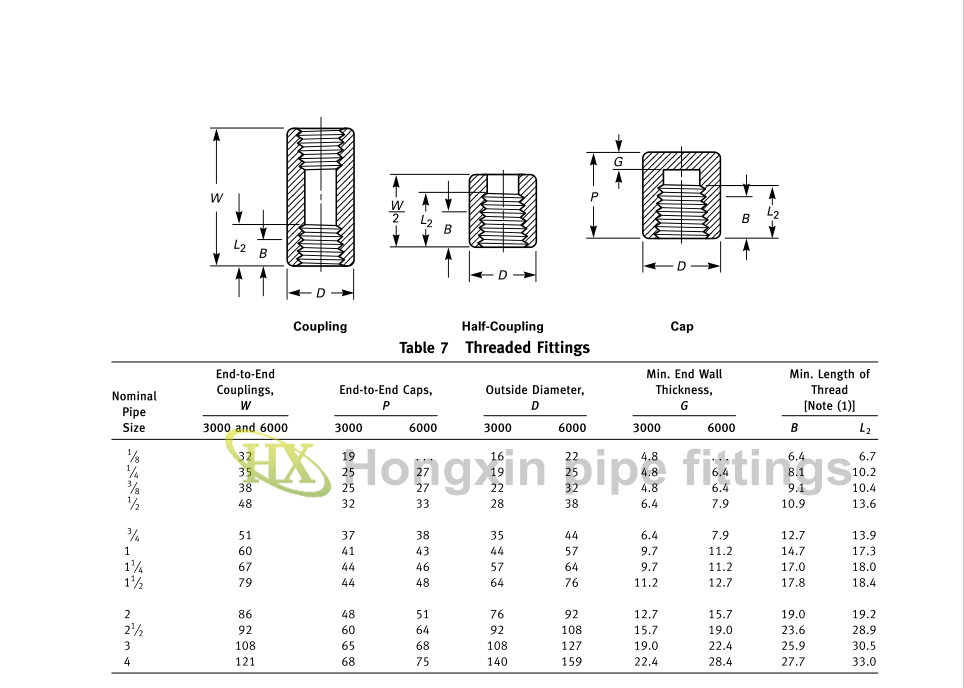 A182 F316 Half Coupling Chemical Composition
C           Mn         Si                  P         S          Cr                 Mo                  Ni
0.035     2          0.75            0.045     0.03      16-18            2-3              10-14
Stainless steel BSP fittings 
Standard : ASME/ANSI B16.11
Diameter Range : 1/8 to 4 inch / DN6-DN100
Pressure Rate : 3000lb, 6000lb, 9000lb
Threaded Fittings : 90 Degree Elbow, Equal Tee, Reducing Tee, Full Coupling, Half Coupling, Stainless Steel Cap, Threaded Plug, Bushing, Union Swage Nipple
Thread Types : NPT, BSPP, BSPT
Stainless Steel :ASTM A182 F316/316L, F304/304L, F317, F321, F310
Carbon Steel : ASTM A105, A350 LF2/LF3,A694 F52, F60, F65, F70
Alloy Steel : ASTM A182 F1, F5, F9, F11, F12, F22, F91
ASME B16.11 BSP Fittings Surface
Normalizing Heat Treatment or Pickling + Solution Treatment.
We will use Anti-rust oil on all Forged 3/4 Inch SS316 Half Coupling before delivery.
Coupling Inspection
Inspect Stainless Steel BSP Fittings according to ASME B16.11 Standard
Quality controller visual check surface and marking, and measure the size.
Check the 3/4 in Half Coupling refer to pressure rate 3000# and American Standard
Test Thread with Go-No Go Guage
Third party inspection: BV, SGS, LR, DNV, ABS and approve the MTC of Half Coupling 3000#
Export Country
Asia: Vietnam, Singapore,Korea, Indonesia, Malaysia
Africa: Nigeria, Madagascar,Ghana, Kenya,
Middle East: Saudi Arabia, Qatar, Israel, Egypt
Latin America: Uruguay, Peru, Chile, Brasil, Ecuador
Oceania: Papua New Guinea, Australia, New Zealand
Europe: Greece, UK, Poland, Ukraine, France, Spain