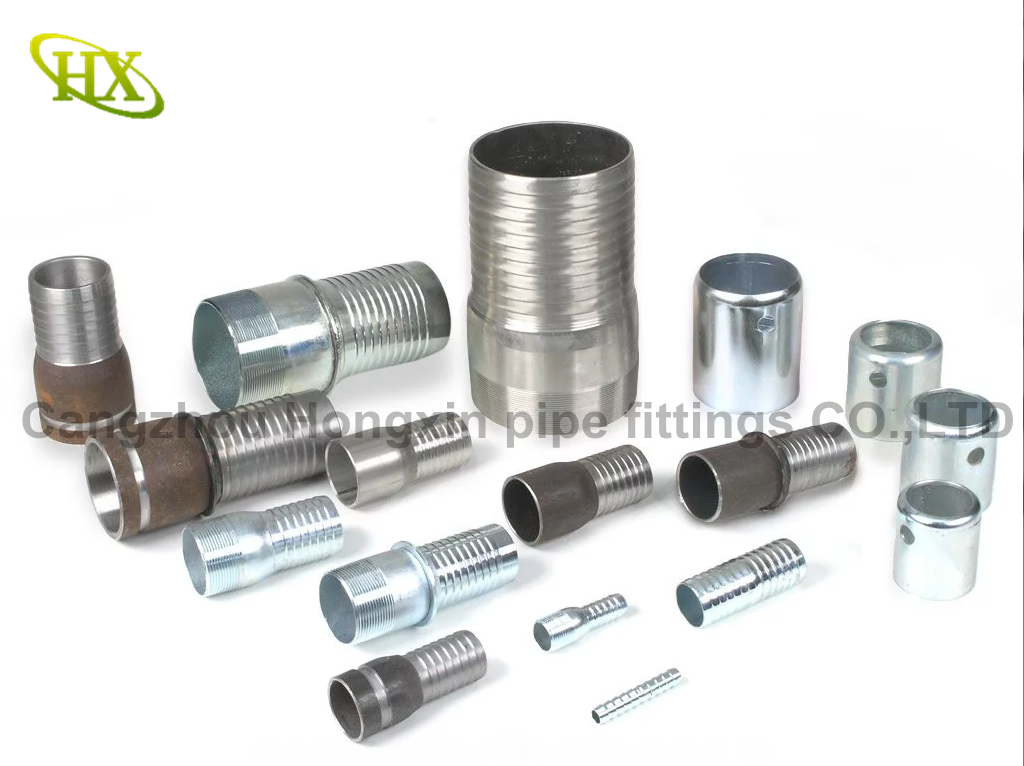 King Combination nipple fittings and connectors (KCN, King Combination Nipple) is a straight type widely used on industrial hoses of rubber and plastics. The fittings are manufactured from pressed steel pipes (carbon steel, 304 and 316 stainless steel). The hose tail part is serrated for hose assembly with bands, hose clamps or special crimping ferrules formed from sheet metal. Hose inner diameters range from 1/4″ (6 mm) to 10″ (250 mm). Carbon steel fittings are zinc-plated (except for weld-in fittings).
Two versions of CN fittings and connectors:
Standard CN fittings (working pressure up to 10 bar):
These end connections are mainly used for fluid service.
NPT, BSPT male thread is standard.
King combination nipples are also available in a grooved end or with a beveled end for welding.
Plated steel prevents rust and weathering.
Install directly on equipment and then slide the hose onto the stem to eliminate the need for a female swivel in permanent installations.
King nipples are recommended for low-pressure discharge and suction service for compatible liquids. They are not for compressible products such as air or nitrogen on sizes ¼" and above.
King Combination Nipples are not recommended for steam.
The working pressure may vary with the construction of the hose, the type of clamping system used and the application. Consult the factory for recommendations.
According to R.M.A.'s announcement on suction and discharge hoses, the connection length of any size hose should be tested at ½ times the working pressure and kept for 15 minutes without leakage or coupling movement.