Steel Pipe Nipple
Steel pipe nipple is a short piece of pipe usually with threads in both ends, for connecting of two other fittings.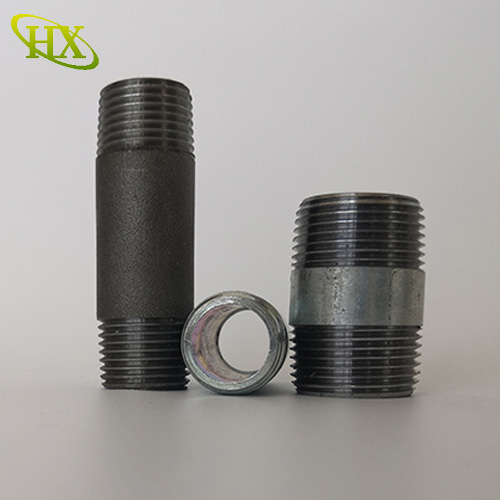 Pipe Nipple
The length of nipple generally is specified by the overall length with threads part. Also it may have a hexagonal section in the center for a wrench to grasp (we call hex nipple), or it may simply made from a piece of pipe (As above picture we call it barrel nipple or pipe nipple).
Pipe nipples can be made from a wide range of materials, including carbon steel, brass, stainless steel, aluminum and more. Using pipe nipples makes it possible to position tubing exactly where it is needed.
Pipe nipples also come with a variety of end finishes, such as tapered thread, straight thread, roller cut, reamed and chamfered, square cut, and grooved.
Mtterial 
ASTM A53 Standard specification for pipe stee, black.galvanized, Hot-Dipped, Zinc coated .welded
Close Nipple
A close nipple almost has all length with threads; when screwed tightly between two female fittings, very little of the nipple remains exposed.

A close nipple can only be unscrewed by gripping one threaded end with a pipe wrench which will damage the threads and necessitate replacing the nipple, or by using a specialty tool known as a nipple wrench (or known as an internal pipe wrench) which grips the inside of the pipe, leaving the threads undamaged.
When the nipple ends are of two different sizes it is called a reducer or unequal nipple.
Threads used on nipples are BSP, BSPT, NPT, NPSM and Metric.
Other kinds of Nipples
Casing Nipple and Tubing Nipple
Refers to the short length of the Casing and Tubing Pipe, normally length in 2ft, 4ft, 8ft, 10ft or customized. Cangzhou Hongxin Pipe Fittings Co., Ltd., which was established in 1998, is a professional  manufacturer of steel & stainless steel fittings in China. Our company is 180 kilometers away from Tianjin Port of China,
Flange Nipple
Flange nipple can be considered as nipple and flange conjunction. The nipple is specifically placed in the flange and then welded to the pipe end.
The flange could be move on the nipple by screwing.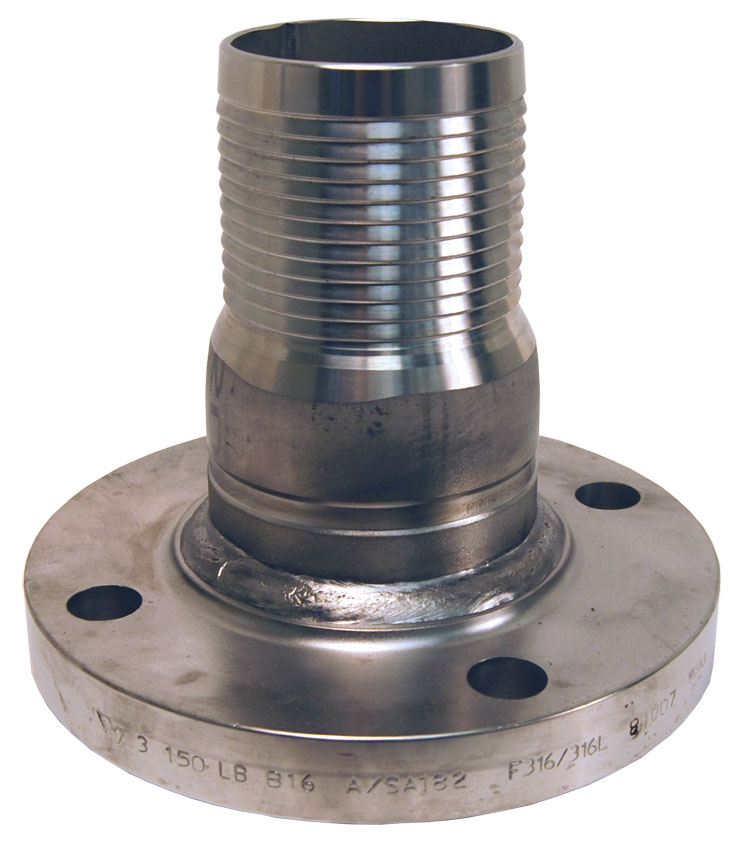 Our Supply Range for Nipples
Material: Carbon steel, alloy steel, stainless steel
Standards: ASTM A53, ASTM A106, API 5L, API 5CT
Dimensions: 1/2", 3/4", 1", 1 1/4", 1 1/2", 2" up to 6".
Wall Thickness: SCH 10, SCH 40, SCH 80
Coatings: Black Paint, Varnished, Galvanized